Great Scenes of Relief in The Capital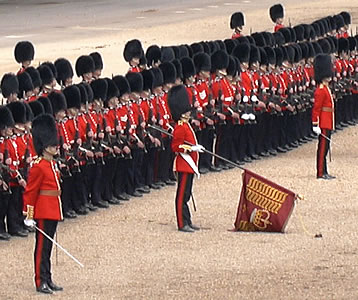 That Colour won't be troubling Britain again for a while
The nation breathed a collective sigh of relief today, after the dreaded Colour was successfully trooped for another year through the skill, determination and sheer guts of our plucky British boys.
Pillbox Trick
Led into the field for the first time by General HRH The Duke of Ambridge - who heroically oversaw a textbook example of modern urban warfare from his exposed observation post on a Buckingham Palace balcony - cavalry shock-troops spearheaded the assault, sabres rattling as they escorted into position our big guns: Commander-in-Chief HM The Queen (cunningly disguised as a pillbox); Lord High Admiral of the Fleet HRH The Duke of Edinburgh; Chief WAG HRH The Duchess of Ambridge; and Lance-Bombardier Camilla Parker-Bowles of the Royal Horsefaced Artillery, who deployed heavy smoke to conceal our brave lads' advance.
Craven Surrender
A sterling mass of plucky infantrymen, wielding their feared Palitoy Guns, then marched in to completely surround the terrible Colour, which cravenly surrendered as our magnificent men in their flying machines went up-tiddly-up-up and down-tiddly-down-down, looping the loop, defying the ground, flying upside-down with their feet in the air.
Real Fear Of Colour
"With Britain's forces stretched by deployments in the Middle East, this year there was a real fear that the Colour would triumph at last," commented a Mr Rik Mayall, speaking on behalf of Britain's brewers. "Thank God the drab streets of London have been saved once again from the depradations of any unwelcome Colour!"
Advertisement
"Huzzah!" he added on behalf of his sponsors.