To mark World Mental Health Day, the government has urged more soldiers whose minds have been shattered by the trauma of conflict to come forward so they can be shunted off to specialist treatment centres sited well away from public view.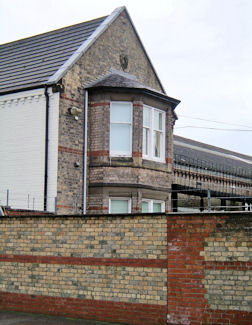 A salubrious place to bury a PR problem
"Nobody likes to see a strapping squaddie shambling about in tears," said a Ministry of Defence spokesman. "It's bloody inconsiderate of them. It makes the public feel deeply uncomfortable. People have no problem at all with the odd leg blown off here and there, especially if the resulting monopods go on to hop a half-marathon. But the sight of an apparently fit and healthy man twitching uncontrollably every time somebody slams a window shut puts all sorts of inappropriate ideas into their heads, like maybe a tour of duty in Afghanistan isn't quite the adrenaline-pumping adventure holiday that they see on the telly."
5,000 troops have already been specially trained to sensitively shout: "Perkins! You're fucking mental" at fellow soldiers at the first signs of instability, so they can be transferred to secluded barrack blocks conveniently hidden behind towering walls instead of trying to bottle up their traumas until they return to civvy street and upset the general public with their unmanly behavioural problems.
"I'm s-so g-g-grateful to the army for sh-showing me some helpful p-p-p-Powerpoint slides," shuddered former combat stress victim Rifleman Barry Snopes. "Now I c-c-can offer p-prospective employers a history of m-m-mental illness, as well as th-thirty d-d-different ways to k-k-kill a towelhead."